every Rehabilitation Facility has a story ...
but ours is DIFFERENT ...
Spring Mountain Rehab was established in December 1, 2000. We are a Comprehensive Outpatient Rehabilitation Facility operating in Clark and Las Vegas County, Nevada. In 2005, Spring Mountain Rehab served as a Certified Satellite Site for Outpatient Pulmonary Rehab during the National Emphysema Treatment Trial for the world-renowned Mayo Clinic, Cedars-Sinai Medical Center, and the University of California San Diego Medical Center. To date, we have our primary location in the Northwest part of Las Vegas and a second location in the Southwest Area which was inaugurated in April 20, 2020.
Our services includes –
Our Medical Team has a Medical Director who is a Physiatrist; our Physical Therapists are Doctors of Physical Therapy and Master in Occupational Therapy; we have seasoned Certified Respiratory Therapists, Registered Nurses who monitor telemetry  for Cardiac Rehabilitation and Physical Therapy Assistants and Physical Therapy Technicians.
We offer an individualized approach for our outpatient rehabilitation programs. We are uniquely different from the rest of rehabilitation facilities around Las Vegas. Our patients come to trust us to help them achieve milestones and breakthroughs with their health. We work with functional lifestyle improvements as well as practical solutions to modify our patient's daily routines. Our goal is to provide outstanding care to help them overcome the challenges of therapy.
Appointments are by Referrals Only
Call us for more Information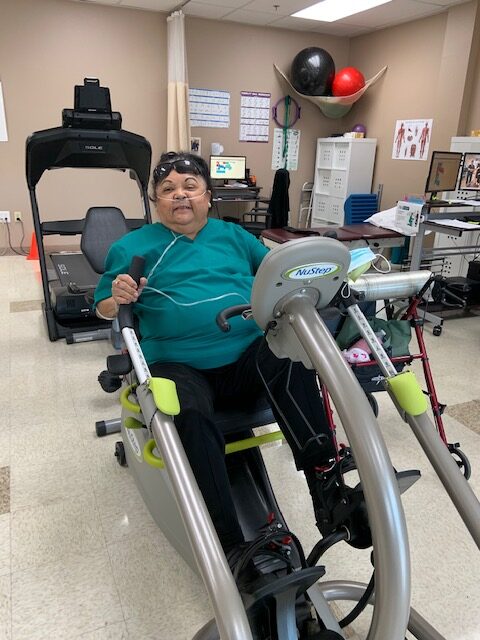 We want our patients to have a better quality of life and we want to be a part of that quality. 
SMR's awesome physical therapists and staff have made great strides in becoming the best-trained group in the Las Vegas area. Patients at Spring Mountain Rehab have responded and have given us what we consider to be the best part of our work.
In Spring Mountain Rehab we also observe and celebrate monthly special days and events. Celebrations like these may appear frivolous, but it gives a significant impact on our patients, office camaraderie and employee engagement, happiness, productivity, and longevity. We take advantage of these occasions to spend time together in a non-stressful setting, which can help with the development of positive working relationships.
It's Not All Work, We Sometimes Play!​